Sale!
Tulle Tutu Table Skirt, Wedding Bridesmaid Sister Costume,Party Skirt, Rectangle Or Round Decorative Table Decoration, Fashion Deluxe Romantic Birthday Party Baby Shower
$15.59 – $47.99
Amazon purchase link: https://www.amazon.com/gp/product/B07YKJX934

❤ MYMM table skirt will creates a noble and luxury atmosphere to your special event, make it Romance Unforgettable, Fun, Classic And Elegant, These beautiful Table Skirts Great for reception table, dessert table, cake table etc.

❤ Can be connect – Please decide the number of purchases based on your table length, it is so easy to connect them by yourself, just need connect The ends of the ribbon to finish it.

❤ Economy & Beautiful – reusable, bring an eye opener and more joyful mood into your upcoming special occasions or just everyday entertaining, Add the perfect touch to your special cherishable occasion.

❤ Easy To Used, we have provided Velcro and lock pin, so you can easily arrange them whether you use tablecloth or not. You Can Also Tie It Directly To Your Waist As A Skirt attend parties. (tip: Wave model just suitable for table)

❤ May be a little wrinkles are normal, because long-distance transport. just straighten it out by your hand; If you want it more soft and fluffy, just soak it in the water, hang it out to dry and then use it.

MYMM is a US brand, focus on supply high quality party decoration and festival decoration products. Customer's satisfaction is the most important purpose for us.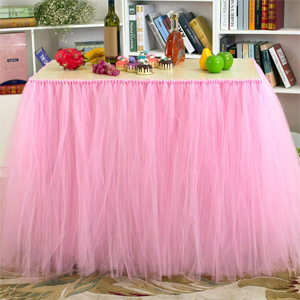 Feature:
Using 100% High Quality Material, superior quality and skin-friendly. Three-layer fabric manufacturing, Make the decoration more beautiful.
Product name: Three-layer Wave Table Skirt
Material: Soft nylon + Pearl polyester
Shape: Rectangle
Size: Length: 3ft≥92cm 6ft≥183cm 9ft≥275cm 14ft≥427cm High≈2.6ft/80cm
Package includes: lock pin * 10 and Velcro * 8 (Helps you to set up easily)
Note:
1. Soft Nylon Tulle Table Skirts, Do not worry about wrinkles. You can use it straight out of package.
2. The tulle table skirts come with Velcro that you can place where you'd like on the edge of table.
3. The package bag is durable, after you use for first party, you can take care and wash it, put back in the bag for next party to save your money.
4. It can be washed by hand and reused. Because our fabric is better, it is more cost-effective than disposable table skirts. Many hotels order our products.
Holiday Decoration

MYMM wave table skirt has three layers, the best cost performance and quality. Make your party more upscale.

Hotel Decorations

MYMM Table skirt is perfect for large parties, weddings, bridal and baby showers, birthday parties, holiday parties, home decor, dessert tables, candy tables.

Home Decorations

Three layers Wave Table Skirt Will Give You The Romantic Atmosphere. This is a high end deluxe table skirt, great decoration for your table and make your party and home much more better and more warm.

MYMM
We are sure that MYMM high-quality table skirt will bring you an unforgettable memory.
| | |
| --- | --- |
| Color / Size | Tutu-blue / 3ft, Tutu-blue / 6ft, Tutu-blue / 9ft, Tutu-pink / 3ft, Tutu-pink / 6ft, Tutu-pink / 9ft, Tutu-rose Red / 3ft, Tutu-rose Red / 6ft, Tutu-rose Red / 9ft, Tutu-white/ 3ft, Tutu-white/ 6ft, Tutu-white/ 9ft, Wave-blue / 3ft, Wave-blue / 6ft, Wave-blue / 9ft, Wave-blue / 14ft, Wave-pink / 3ft, Wave-pink / 6ft, Wave-pink / 9ft, Wave-pink / 14ft, Wave-purple / 3ft, Wave-purple / 6ft, Wave-purple / 9ft, Wave-purple / 14ft, Wave-rose Red / 3ft, Wave-rose Red / 6ft, Wave-rose Red / 9ft, Wave-rose Red / 14ft, Wave-white / 3ft, Wave-white / 6ft, Wave-white / 9ft, Wave-white / 14ft |
Related products
Plastic self-adhesive handles, 4 handles without drill screws, removable and replaceable, automatic push rod, booster for cabinets, showcases, sliding doors, wardrobe drawers

$

10.07

[High-quality material]: Made of high-quality plastic, sturdy and durable. The sliding door handle is perfectly designed, and the smooth appearance will not scratch your furniture or hurt your hands.

[Simple installation]: The self-adhesive handle has self-adhesive glue, just tear off the self-adhesive glue, and then stick it on any furniture without punching. Multiple built-in designs make it easier to withstand push and pull and save manpower.

[Strong load-bearing capacity]: 3M adhesive tape is used, which has strong adhesion and super load-bearing capacity, even if it is hung with heavy objects, it will not fall! If you want to remove it easily, you can heat it with a hair dryer for a few minutes.

[Wide use]: Widely used in doors and windows, cabinet doors, drawer doors, glass doors, refrigerator doors and other furniture, as well as glazed tiles, glass mirrors, patterned tiles, frosted glass, wooden lacquered toilet lids and any smooth and clean surface.

[Package included]: The set includes 4 PCS handles, size: 3*11 cm/1.2*4.3 inches, window auxiliary handles are an excellent interior decoration for your home, with these handle helpers, your life will be more convenient!

Select options

MYMM Wind Chime, Wish You Prosperity: Traditional Chinese Amazing 4 Tubes 5 Bells and Wooden Base Bronze Windchime for Outdoor Patio, Garden and Interior Decor

$

17.27

❤Brand new large wind chime built by Vintage Bronze 4 tubes, ventilated ornaments.

❤Perfectly made chew tubes, combined with ornaments and a wooden top, braided nylon cord and durable handmade

The chimes are very audible and melody, as the notes in their pentatonic scale are always in harmony to make a happy and clear sound.

❤ Exquisite artisan window decorations of traditional Chinese factor, fortune, wishes, perfect as birthday gift, Valentine's Day gift, Christmas gift, New Year gift.

❤Wind Chime means "countless riches" and "healthy and happy" in China.

Add to cart

50 Liter Backpack, Great for Outdoor sport, Hiking, Trekking, Camping Travel, Mountain Climbing. Waterproof Mountaineering Bag, Travel Climbing Daypacks, Knapsack, Rucksack

$

51.83

❤ The backpack is made from water-resistant and tear-resistant nylon fabric and has a high, longer-lasting performance with minimal weight.

❤ 50 litre professional backpack: the main compartment can be sealed with a pull mode, retractable pocket. Features spacious main compartment and several pouches with large capacity.

❤ With a strong hanging system to carry more items. Side pockets, straps, curves and other user-friendly extensive design, especially designed for backpackers. Perfect for travelling, camping, mountain climbing, hiking, etc.

❤ Ergonomic backpack, with comfortable clasps. With airflow channels for best ventilation.

❤ Ergonomic design, adjustable chest strap and waist belt. The total weight is only 1.2 kg. Protects from the rain.

Select options